(Unofficial) GDC 2019 Party List: Networking Events, Mixers, & Parties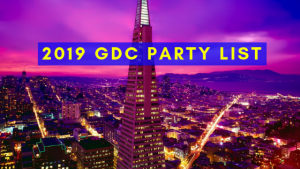 The 2019 Game Developers Conference runs through March 18-22 in San Francisco, California.
VRDC is on Monday and Tuesday (March 18-19) and the Independent Games Festival is March 20-22 (the 18th Annual Game Developers Choice Awards ceremony starts at 6:30 PM PST on Wednesday, March 20).
The spreadsheet was created by and is run by Talia Shmuel this year.
Here's the link to the spreadsheet: https://docs.google.com/spreadsheets/d/1MNOUKU0Z7fEp1IDqkTp8e7bAhkFr_L7Pl9clkvy51fw
Here's the Party Location Map Link: https://drive.google.com/open?id=13wCssL6bkzNI4A7Iv9kNsU3C050kxjrM&usp=sharing
If you would like your party or event to be added to the above list, then you could fill out this form: https://docs.google.com/forms/d/e/1FAIpQLScTkqPiVrsrSMmCaztGgVQD4vr2zgnSRfu6B8cBi7URbumzXA/viewform